Hearing Loss Association of America Washington State
Our Mission
To open the world of communication to people with hearing loss by providing information, education, support, and advocacy.
Our Vision
All aspects of life will be accessible to people with hearing loss.
We're dedicated to helping people with hearing loss live their best lives. We provide support and hearing technology education. And we remove barriers, encourage communication access, and advocate for a world that allows everyone to participate equally, regardless of their ability to hear.
Your HLAA membership automatically includes membership to HLAA-Washington.
We'd love it if you joined us.
News & Events
---
Because of your generosity during GiveBig, May 3-4, 2022, we not only met our $4,000 goal, we exceeded it by 25%.
Thank you to everyone to donated. Our programs and advocacy will continue to change the lives of people with hearing loss across our state.
---
In our April 26, 2022 newsletter, we share with you…
GiveBIG 2022 is coming May 3-4, 2022
Welcome Maggie Campbell to ODHH
Open-captioned movies at Edmonds Theater
Next HOPE meeting May 4, 2022
Listen safely (Better Hearing & Speech Month)
Drug rebuilds ear cells in clinical trial
When should you replace your hearing aids?
A review of hearing tech in NYT's Wirecutter
In memory of Jerry Olmstead
For hearing loss news, tech tips, and more, subscribe to our e-news here.
It's free, and we never sell your information.
---
Washington State Legislative Session 2022

Hearing Aid Coverage Bill (HB 1854)
As of February 16, 2022, this bill is unfortunately all but dead for this session. Read more in Cynthia Stewart's blog post.
The bill garnered enthusiastic support and heartfelt testimony from dozens of people, including HLAA-WA members. We're not giving up the fight to get private insurance to cover hearing aids in Washington State. Stay tuned for how you might help.
Hearing aids connect people to their friends and families, help children thrive in school, and empower people to succeed at work. As vital medical treatment, a hearing aid really can change a life–but for too many people, a hearing aid is unaffordable at up to $3,000 for each ear.
Why does this bill matter?
Without treatment, seniors with hearing loss are more likely to fall. Falls are a leading cause of injury and disability in people over age 65.
People without help for their hearing loss are more likely to become depressed, anxious, and isolated.
Hearing aids can help children with hearing loss in many ways, including with brain development, school performance, and social skills.
Because Medicare and most private insurance companies don't cover hearing aids, tens of thousands of Washingtonians fall into the gap: they can't afford hearing aids, and they don't qualify for Medicaid.


---
Catch Our January 2022 Annual Meeting Video
Find out about HSDC's unbundled service model and patient-centered approach, plus get all the HLAA-WA news, at this (captioned!) video of our January meeting.
A humungous thank you goes to Alan Katsura at HLAA Diablo Valley for his help with captions. 
---
Ending the Isolation of Hearing Loss: Our Article in The Seattle Times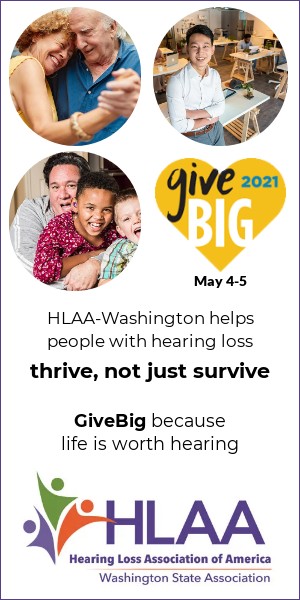 Imagine worrying about how you'll communicate and hear everywhere you go. Now imagine automatic captions, hearing loops, and affordable hearing aids for everyone.
In our article in The Seattle Times, read about how together, we can end the isolation of hearing loss.
"We want to make communication access as ubiquitous as wheelchair ramps," says HLAA-WA's Perazzoli. "At the end of the day, we all want to be seen and heard."
---
Next Virtual HOPE Meeting: June 1, 2022, 4:00 pm Pacific
Hearing Other People's Experiences (HOPE) is a support group that creates a safe place for people to ask questions, share challenges, and help one another. Our next HLAA-Washington HOPE group meeting is June 1 2022, 4:00 – 5:15 pm, online via Zoom. Everyone is welcome. Captioned, of course. Free. Register
here
.
---
New Washington State Law Requires Captions on All TVs in Public Places
Update May 26, 2021 – The captions-on bill was signed by Governor Inslee! All televisions in public spaces across Washington State will now be required to have the captions turned on.
Thank you for supporting this important way to include people with hearing loss and people who are Deaf.
Simple System Helps People Hear at Counters and Desks
December 3, 2020 – Glass and plastic barriers–and ever-present face masks–may protect us from COVID19, but they make it harder, if not impossible, to hear one another. Sound is muffled and blocked, and we lose the ability to speech read.
Speech Transfer Systems, also called window intercoms, are a simple, affordable way to help people hear better. Microphones on each side, plus loop technology, isolate the speech we need to hear. People with hearing loss need this technology to communicate and to receive services, products, and care.
These systems provide so many benefits: ADA-mandated communication access, happy customers, confident employees, and better and faster client service and care.
Check out Brown Audio Service's description of this simple technology, and watch their before-and-after demonstration video.
---
Captions Are Immediately Needed for Video and Meeting Platforms
For people with hearing loss to work from home, watch videos, and participate in online events and meetings, captions aren't optional–they're required. Yet captions aren't automatic on most virtual platforms–most require an add-on program that's complicated and confusing.
During the COVID-19 era, people with hearing loss are even more at risk of isolation and loneliness. Many are working from home or trying to reach out to friends and family via platforms like Zoom. Zoom captions are an optional add-in, but they cost $200 and require some technical expertise to install. All of which places an unrealistic and unfair burden on people with hearing loss, says HLAA Board Member and hearing loss advocate Shari Eberts.
The Hearing Loss Association of America supports free access to captioning for people with hearing loss to support social engagement during the COVID-19 pandemic. You can read HLAA's position paper here.
And of course, HLAA-WA and Let's Loop Seattle support technologies, including loops and captions, to keep people connected during the COVID-19 pandemic and beyond.
You can help!
If you'd like to sign the petition to get free captions on virtual platforms, click here.
If you need help finding and turning on captions, visit Theater Development Fund's guide, "How to Turn on Captions for Online Performances."
---
Hearing Aid Coverage in Washington State
Will Washington State insurers soon be required to cover hearing aids under the ACA guidelines?
Maybe. A recent 9th Circuit Court of Appeals decision (Schmitt v. Kaiser) could result in hearing aids be mandated as "essential health benefits." The case has been sent back to trial court to decide if excluding hearing aid coverage predominately impacts people with disabilities, according to attorney and hearing loss advocate John Waldo, writing with Trevor Finneman in the HLAA-California September 2020 newsletter.
Read Waldo and Finneman's update, which includes analysis of how a 1985 Supreme Court decision may play a role in the next ruling.
---
Coronavirus and Hearing Loss
20% of the population has hearing loss, many of them older adults who may be susceptible to COVID-19 and may also be less adaptable to the changes that are coming quickly. Here are some tools to help: Coronavirus and Hearing Loss.
---
Newest Edition of Sound Waves
Sound Waves is our award-winning quarterly printed newsletter, currently on hiatus. The most recent issue is below. Please click here for Sound Wave archives.
---
City of Seattle Enacts TV Caption Ordinance
On April 15, the City of Seattle enacted an ordinance that, when it takes effect, will require televisions in places of public accommodation have captions turned on.  This will benefit those with hearing loss as well as people with other reasons to need visual support for what is being said.  Read the ordinance here.
---
Buying Hearing Aids in Washington
(What to expect)
Our new and updated flyer Buying Hearing Aids in Washington (What to expect) is now published.
---